Mücver is made by everyone in a shape of meatball and it's fried in oil. But in our home in order to use less oil, we prepare it within turning one side to another-like omelette. In this way we cook the food in a healthy way. In summer mücver is eaten with some adds that give extra taste – tomatoes, green peppers, cucumbers and cheese.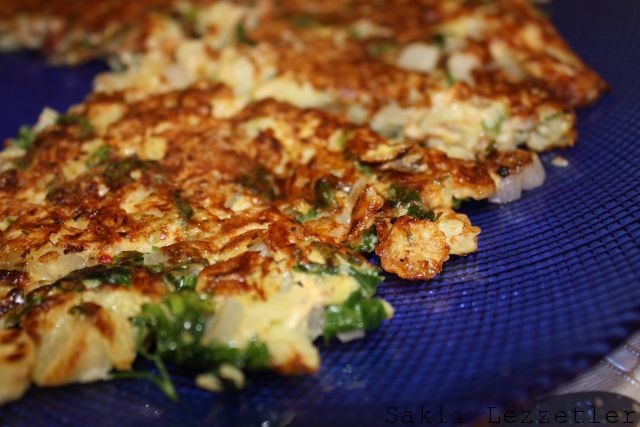 Ingredients
3 zucchini
1 mid-sized onion
2 eggs
3 tablespoons flour
1 teaspoon salt
½ teaspoon red pepper(chilli is optional)
½ teaspoon black pepper
½ bunch of parsley
1/5 cup vegetable oil(45gr.)
Preparation
After you wash zucchini very well, shred them using largest wholes on grater.  After it add the eggs, red and black pepper, flour and salt. Dice the onion and chop the parsley, add them to zucchini mixture. Mix it very well.
Into an oiled fry-pan place thin layer of the mixture-like for pancake or omelette. Begin cooking on medium-low heat. Later, when that side is fried, use a spatula or the lid to turn over the mixture so it can be cooked on the other side. If you are skillful, you can try to flip it into the air :) When this side is also fried, put the mücver in a shallow plate and serve it cut in pieces.