I think Mırik meatball is one of dish that most of you didn't hear or taste before. This is one of the traditional plate of Sivas. I was hearing from my mother that ,before the Republic, means mobilization times, in my mother's grandmother's family, this was the most favorable dish. My mother always telling that in front of the Grandmother's house, there was a vegetable garden and they were joyfully sitting to eat this Mırik Meatball in that garden.  From past to today, We still prepare and eat this local undepreciated taste coming from past and going to future with pleasure. I hope you will like it as well.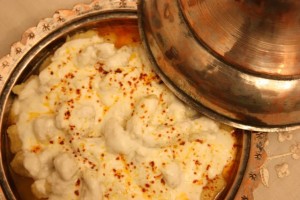 Ingredients
1/2 Kg bılgur for meatball
1 onion (middle size)
2 eggs
2 teaspoon salt
1 cup flour
1/2 Kg yoghurt
2 table spoon butter
4-5 clove garlic (optional)
1 teaspoon red pepper (optional)
How to do
Soak bulgur with 2,5 cup of water (means put the bulgur into stove pan and put water on top of it J ), cover the pan and leave it for 20 mins. After 20 mins, bulgur would be bloated. Put bulgur into a cup where you can mold it easily – tray would be recommended. And grate onion on top of it. Add salt and flour, and then put the eggs. After adding all, started to mold as cig kofte (raw meatball). Around 15 mins later, you will hear the sound bulgur creates similar when you chew a gum J (like cit cit ). Then it means meatball is ready. Meanwhile, it can be thicken, so keep water beside you in case you need to shape it.
Have egg sized pieces from the bulgur which has been like dough. And shape it little, as pistachio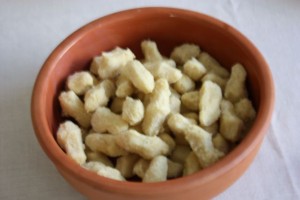 Meanwhile, boil a pan of water with 1 teaspoon salt. After it boiled put the meatballs you have shaped into it. You will understand that they are cooked when all meatballs are come up to the water. After all cooked, strain the meatballs and put them into a dish. Then you may add garlic into yogurt. Pour the garlic added yogurt on top of the meatballs.  Then melt  butter (you may add red pepper in it as well) and pour over the yogurt. Your meatball is ready now.
Mırik meatball is mild, delicious and nutritive with similar to mantı taste for the ones who like bulgur.